Welcome to Krishna Palace Hotel
A heritage hotel in Jaipur
Krishna Palace is a heritage building, which looks like a palace and is highly recommended by world famous guide books like Lonely Planet, French guide book Routard, Rough Guide Book and Japanese Guide Book Arukikata. Nice Beautiful garden, quiet and very clean spacious rooms with high ceilings, hot shower. 24 hour service. Comfortable Long beds, each room comes with color TV with all channels. Roof Top restaurant and garden Restaurant facility available. Walking distance to the Train Station and Central Bus Station. Managed by the friendly family. Very quiet and relaxing neighborhood surround by the greenery. Pick up service from the Train and Central Bus Station is free of charge.
The building of the Hotel is 80 years old, repainted in the original style, using natural colors from various plants. With lots of open spaces, courtyards, open large green gardens, tasty food served in a popular Traditional Style Roof Top Restaurant, we have lots of open spaces by surrounded by greenery where you can have sun bath while relaxing, travel counter, adequate parking and all business facilities. Krishna Palace is an ideal palace to stay for the business travelers and holidayers alike.
Though if you aren't staying with us we warmly invite you to dine at Krishna's Rooftop restaurant ( open from 7.30 am to 11.00 pm) at our hotel.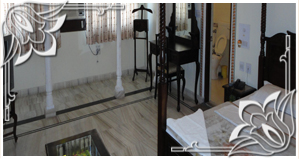 Traditional Style Specious Rooms with high ceilings and natural lights and with private bathroom and hot shower, Air Conditioned and television with all international channels. WIFI also works in room.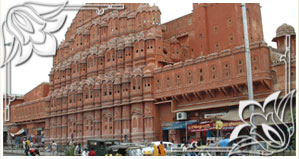 One of the most beautiful cities in the world, Pink City Jaipur is a very clean and safe city set amidst breathtaking natural scenery.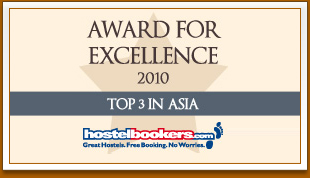 TESTIMONIALS:
We would like to heartily recommend the Krishna Palace in Jaipur. The hospitality and home cooking has been unequalled in all the time we have spent in India. Hotel has different types of rooms air-con and air cooled with bath attached with hot shower. The place is quite, cozy and close to the railway station. The veranda overlooking the lawn is an especially splendid place to spent the evening. We really felt at home here and stayed for much longer than we planned. It's also a place where you can actually taste some urban family life. Mr. Vinod the proprietor very helpful hands out information on Jaipur and other cities. It was actually recommended to us by the tourist office and Mr. Vinod even took the trouble of picking up guest at the Railway Station.

The Guardians, Leading Newspaper UK

Krishna Palace is everything it clams to be ! My expectations were exceeded and I would not consider staying anywhere but here on my next visit to Jaipur !

Scott & Suzan Harman (USA)

Per futti quelli che on giosno si troversanno di paslagio.. Qui siets come a casa roshra, Vinod i pronfo a esavdine futti i vostri desideri. Allora franquilli lascialevi andare alvesto penza lui....

-DVORAK JANE & LIPARI SALVATORE (Switzerland)

A todos los viajeros que visiter jaipur les recomendamos que re alojen con esta familia tan acoge dora y que se desqutn del estrest de la ciudad haciendo estiramientas con vinod par la manana.

-Hemos pasado in timpo estupendo. - Marta Perez Garrido, Embassy of Spain